COMMANDER'S BIO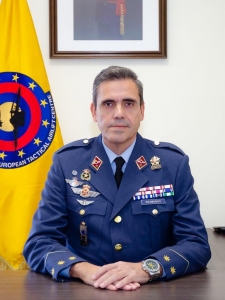 Colonel Fernando Raimundo Martinez was born in 1967 and joined the Spanish Armed Forces in 1984. He received his commission in 1989 through the Spanish Air Force Academy where he graduated. He is Transport and Helicopter Pilot.
With more than 4800 flying hours, Colonel Raimundo has an extensive combat experience having participating, among others, in Balkans Operations (Deliberate Guard/Allied Force/SFOR/KFOR), in ISAF Afghanistan (2007 and 2013), in 2008 EUFOR CHAD/RCA, in 2011 UNIFIED PROTECTOR (LYBIA), in 2013 A/M MALI (OPERATION SERVAL) and lastly in Operation INHERENT RESOLVE (OIR) in Syria and Iraq in direct support to Counter DAESH.
Colonel Raimundo has completed, among others, the Combined Joint Staff Course at National Defence and Joint Staff College (CESEDEN) in Madrid, NADEFCOL SENIOR COURSE (Nato Defense College) in Rome, International Crisis Management Course (Spanish Diplomat School) in Madrid, Armed Conflicts and International Humanitarian Law Diploma (International Red Cross Committee), United Nations Military Observer Course (Spanish Army Warfare Center) Madrid, and Security Cooperation Management Action Officer Course (DISAM) in Wright-Patterson AFB.
International experience: he was assigned in 2008 to the NATO Air Command HQ Izmir, Turkey. He was leading the Tanker & Transport Cell in the Air Operations Team of the Battle Staff when Izmir HQ was responsible of Operation Unified Protector (OUP) as JFACC. Later, from 2014 to 2018, he was assigned to the NAEW&CF E3A Component in Geilenkirchen (Germany) as Commander of the Flying SQ2.
His promotion to Colonel took place on December the 1st 2019 and he was appointed as ETAC Commander the 4th July 2020 where he presently remains.